Tips for the Writing the Perfect Message
Flowers often speak for themselves in conveying a particular feeling or emotion, but adding a heartfelt message to the card that accompanies your gift of flowers makes it even more personal and meaningful. Coming up with the right words to clearly express your sentiment, however, is often difficult. Don't worry, though, because we've got you covered. We have a list of well-crafted, thoughtful messages for you to choose from for nearly every occasion. Ranging from notes of love and passion, celebrations and 'thank- yous,' to well-wishes and condolences, we make conveying your feelings to someone easy and effortless.
Sending flowers with a perfectly written message is super simple. Just choose a beautiful bouquet of flowers and then select one of our suggested sentiments from the list in the drop-down box during the check-out process. Voila! Your gorgeous flowers and eloquent message are on their way. If you still want to give a shot at composing something in your own words, just follow the below helpful guidelines to get started writing your own personal message from the heart.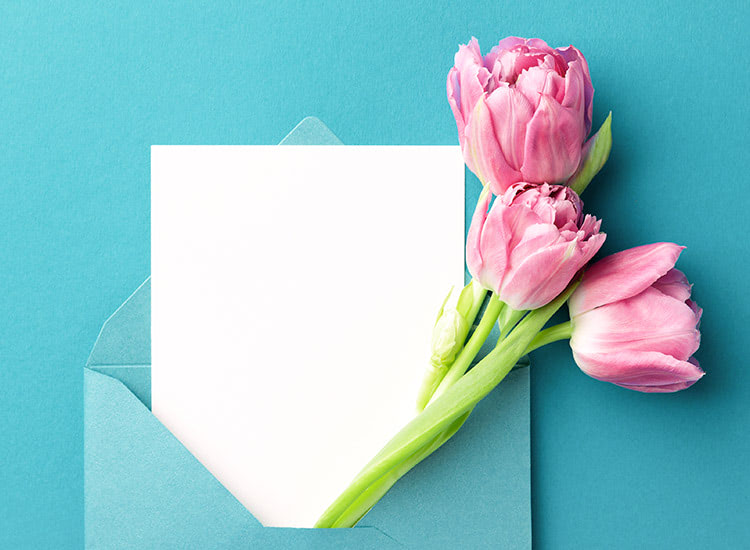 Guidelines for Creating Great Card Messages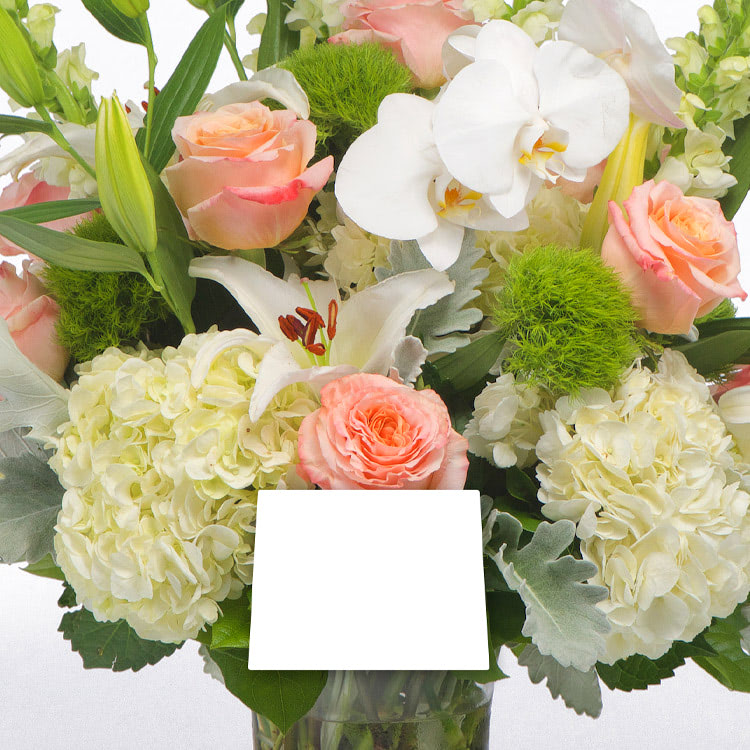 Acknowledge the Occasion. If you're writing a thank-you message, be sure to mention what you're thankful for. An anniversary card should begin with a message from the heart or affection for the couple whose anniversary is being celebrated. A congratulatory note should mention the achievement of the person receiving the card.
Use a Conversational Tone. There's no need to put too much effort into writing in a formal manner, just write casually as you would normally speak. This comes across as being more sincere and natural.
Try to Avoid Cliches. Cliches have a time and a place but may come across as insincere in a personal message. Instead of phrases such as "Everything happens for a reason," "If it's meant to be it's meant to be," "At the end of the day, " and "Giving it 110%," use your own original words which will make your message a lot more genuine and meaningful.
Brevity Is Best. You may have a lot to say and a lot on your mind, but to prevent your message from rambling, try to keep it brief. Get all of your thoughts down on paper, and then edit the message to just a few lines. This ensures your meaning comes across more clearly and thoughtfully stated.
Re-read Your Message. Besides checking for proper grammar and spelling, read your message a few times to make sure it truly captures the sentiment you're trying to express. If it doesn't, give it a few more rounds of edits to make your thoughts more impactful.
Tips for Writing an Anniversary Message
A significant milestone in a relationship, reinforce your bond of love with a message that is personal and meaningful. Straight from the heart is the best way to go here.
"Because of you, I laugh a little harder, cry a little less, and smile a lot more." — Anonymous
'I've fallen in love many times... always with you.''
'Anyone can catch your eye, but it takes someone special to catch your heart.''
"For it was not into my ear you whispered, but into my heart. It was not my lips you kissed, but my soul." — Judy Garland
"I love you because the entire universe conspired to help me find you." — Paulo Coelho
'Old love does not rust.'' - Estonian Proverb
'Love is not a matter of counting the years, it's a matter of making the years count.'' - William Smith
"You know you are in love when you don't want to fall asleep because reality is finally better than your dreams." — Dr. Seuss
"I just want you to know that when I picture myself happy, it's with you." — Anonymous
Hearts that love are always in bloom.
Life is the flower of which love is the honey. ~Victor Hugo
"Better than I was, more than I am. And all this happened by taking your hand." — Tim McGraw
"Knowing that I get to spend my life by your side makes me smile a little brighter each new day." -Anonymous
Every love story is special, unique and beautiful—but ours is my favorite.
To the most beautiful woman who has given me the most beautiful life, a very happy anniversary.
"If I had a flower for every time I thought of you, I could walk in my garden forever." ? Alfred Lord Tennyson
"Even after all of this time together, I still find new ways of falling in love with you."-Anonymous
My love for you continues to grow every day. I love you today and always.
For all these years you have been my first thought in the morning and my last thought at night.
Every year is sweeter than the last.
Happy anniversary to the only person in the world I want beside me every day and every night for the rest my life. I love you, sweetheart.
Even after all this time, my heart still melts when you walk into the room.
Even though the years continue to pass, my love for you only grows stronger. Happy [20th] anniversary!
Having you by my side makes me the happiest, most grateful, and luckiest person in the world.
Celebrating us!
I'd do it again... and again... and again!
I love doing life with you.
Happy anniversary to the person who gave me the greatest gift of all time—eternal love and our beautiful children.
Life with you is much happier and sweeter than it was before you came into the picture.
In the waltz of life, you have proven time and time again to be the perfect dancing partner.
With many happy wishes for joy in your hearts.
Happy anniversary to my partner, my best friend.
To my soulmate, lover, companion, and friend, you mean so much to me. I can't imagine life without you.
It takes two very special people to really weather the storms of life together and still be smiling years later. Happy anniversary!
With every passing year your marriage isn't becoming old—it's becoming beautifully vintage and exquisitely priceless. Happy anniversary.
This anniversary marks another year with the man/ woman of my dreams. I am so thankful for every minute I get to spend with you.
'To get the full value of a joy, you must have somebody to divide it with.'' - Mark Twain
Tips for Writing a Birthday Message
Birthdays are a chance to have a little fun. They can be sincere, funny, or uplifting. The best messages include something personal between you and the recipient which can be added after a funny or sincere note.
Have the best birthday ever!
Hope your birthday blossoms into lots of dreams come true!
Wishing a happy birthday to the best person I've ever met in this world.
Can't think of anyone else that is more deserving of an incredibly-happy day.
How do you keep getting older but looking younger? Just one of the many amazing things about you!
My wish for you on your birthday is that you are, and will always be, happy and healthy!
Wishing you a year filled with the same joy you bring to others.
A beautiful flower for a beautiful flower. Happy birthday!
Wherever the year ahead takes you, I hope it's happy.
You're not getting older... you're getting better.
On the winding road that is life, you are the one I want to ride along with. Happy birthday!
You were born and the world got better – everybody wins! Have a great birthday.
If it were up to me, your wishes would all come true. Have the best birthday ever.
Sending your way a bouquet of happiness…To wish you a very happy birthday!
May today be filled with sunshine and smiles, laughter and love.
The day is all yours — have fun!
Thinking of you on your birthday and wishing you everything happy.
Age is strictly a case of mind over matter. If you don't mind, it doesn't matter.'' - Jack Benny
It's always a treat to wish happy birthday to someone so sweet.
Hope you know what a gift you are to the world (and to me).
I hope all the goodness you give away comes right back to you in the year ahead.
Wishing you a birthday that's just as wonderful as you are!
From morning till night, may your birthday be bright!
Today, the flowers are bloomier, the sun is sunnier, and life is awesomer – all because it's your birthday!
Hope all your birthday wishes come true!
Growing old is mandatory; growing up is optional. - Chili Davis
Here's to your birthday being filled with all your favorite guilty pleasures!
I'm so thankful for the great memories and moments we've shared, and I look forward to so many more. Have a wonderful birthday.
Thanks for always being there and making life fun. Wish big today!
Happy Birthday to one of my favorite people in the history of ever.
It takes a long time to grow young. - Pablo Picasso
It's your special day — get out there and celebrate!
Wishing you the biggest slice of happy today. Hope your birthday is as special as you are.
Wishing you many simple pleasures on your birthday!
Happy birthday to someone who I could not imagine life without. You are one of a kind! Thank you for everything, and enjoy your special day today.
Wish we could see each more, but I hope you know how much you mean to me. Sending you big hugs for your birthday!
There's something really special about your birthday…and I'm pretty sure it's you.
Hope your birthday blossoms into lots of dreams come true!
It's your day to shine!
Wishing you all the happiness someone as nice as you deserves.
If there's anyone who should have a really perfect day — it's you.
Laugh often . . . Love much . . . Live well . . . Have Fun! Happy Birthday!
I couldn't imagine a better friend. Thanks for all the memories! Happy birthday!
"With mirth and laughter let old wrinkles come." —William Shakespeare
May this special day bring you endless joy and tons of precious memories!
Best wishes for a fun and wonderful day!
The world is so lucky to have you in it — here's to a wonderful year ahead!
Your birthday is the perfect time to remind you what a wonderful person you are.
On your birthday don't think of yourself as old ... Just think of yourself as youthfully challenged.
May your birthday be full of happy hours and special moments to remember for a long time!
Wishing you a memorable day and an adventurous year, Happy birthday!
I hope your celebration gives you many happy memories!
You get more amazing every year. Hope your birthday is, too!
You're one of my most favorite people to celebrate. Happy, happy day to you!
Enjoy your special day.
Hope your birthday is as wonderful and extraordinary as you are.
Tips for Writing a Congratulations Message
Numerous occasions call for fresh flowers and a message of congratulations, from engagements to pregnancy announcements and bar or bat mitzvahs to promotions. Congratulating someone on taking a risk, achieving a milestone, or accomplishing something extraordinary should be done with enthusiasm, admiration, and love.
This calls for celebrating! Congratulations!
You did it! So proud of you!
I knew it was only a matter of time. Well done!
Congratulations on your well-deserved success.
Heartfelt congratulations to you.
Warmest congratulations on your achievement.
Congratulations and best wishes for your next adventure!
Congratulations on one of your best moments.
This calls for a celebration. Congratulations!
So pleased to see you accomplishing great things.
Hooray! We just couldn't be happier for you!
I wish you a hearty Congratulations on this pleasant occasion. May your life always shower you with such happy and successful moments.
Some are dreamers, some are talented. You are both. May you achieve more success ahead. Congratulations on this success.
Feeling so much joy for you. What an impressive achievement!
Simply overjoyed to hear your good news.
Congratulations! Your hard work has finally paid-off!
Congratulations! I'm so proud of you!
I've got a feeling this is only the beginning of even more great things to come for you!
Congratulations! No one deserves this more!
Congratulations! Keep aiming higher! The sky is the limit!
Well done, you deserved the success. Congratulations to you.
Congrats! What a great accomplishment!
"Congratulations! Today is your day. You're off to great places. You're off and away!" --Dr. Suess
Congratulations and BRAVO!
Tips for Writing a Father's Day Message
The bond we share with our dads and father figures is unlike any other. When writing a Father's Day message, your mind may be flooded with countless memories and emotions that you want to convey. Finding a good place to start, whether cute or creative, is key. Then, let the rest flow naturally from your pen.
Tips for Writing a Get Well Message
Sending a warm message along with some bright, fresh flowers is a great way to help someone in the hospital recover quickly. Whether for a friend, family member, or coworker, select a general saying and then add some personal details to make it your own.
With warm wishes This just comes to say, That I hope you're feeling better with each and every day.
Thinking about you today and hoping it's a good one for you.
You mean the world to me. Take time to rest and feel good! I'm always here for you!
May good health and happiness be closer than you think.
Just wanted to remind you how important you are to me.
Comfy jammies, cozy bed, big soft pillow for your head. Worry not, the world can wait take your time and recuperate
May each day bring you renewed strength and brighter times.
You're in all our warmest thoughts and prayers.
Thinking of you and wishing you a speedy recovery.
Sending healthy vibes in your direction.
Hope you feel all the love surrounding you right now! Missing your constant laughter. Feel better soon!
Just thought you could use a little extra sunshine today.
As you rest and heal, know that you are thought of warmly and wished a quick recovery.
Sending sunshine to brighten your day and spirits.
Miss seeing you around here. Get well soon!
Warmest wishes for a speedy recovery!
I look forward to your fast recovery so we can spend more time together!
There's no quicker way to bring back your smile than to rest your wings and perch for a while! Get Well Soon.
Hurry and get better so you can come out to play again soon.
Sending healing vibes in your direction.
You're in all our warmest thoughts wish you a quick recovery!
Think of this as the universe telling you to read a book.
My whole family sends their well-wishes for your quick recovery!
What doesn't kill you makes you stronger, or at least gets you the good drugs.
Wishing you all of the love and support you need to feel better soon.
Sending you all my love and prayers. Get well soon!
You mean so much to me. Hope you're feeling better very soon.
Just sending a little get-well sunshine your way because you're always a bright spot in my days.
Hope your tail is wagging again soon!
Hope you get to feeling better soon!
We love you very much! Feel better soon! Xoxoxo
The greatest healing tool is friendship. Let me know if I can come over and keep you company!
Love you and think of you all the time.
Hoping these flowers brighten not only your room, but also your heart today.
Good health starts with a happy heart. Hope these flowers start the job!
Sending hugs, love, and wishes for a quick recovery.
May these flowers bring a smile to your face, uplift your spirits, and speed your recovery.
Here's to you—steadier, stronger, and better every day.
I hope each day brings you more strength and smiles.
The world is blue without you. I hope you recover soon so you can fill the world with light again.
Get better and get back to your amazing self soon.
Hope you're feeling better soon.
'When you come to the end of your rope, tie a knot and hang on.'' ~ Franklin D. Roosevelt
Thinking about you every day and looking forward to seeing you soon.
I have no one to laugh at my stupid jokes — please get well soon!
From sunrise to sunset each day, you'll be in my thoughts!
Sending good, healthy vibes your way.
"What lies behind us and what lies before us are tiny matters compared to what lies within us." —Ralph Waldo Emerson
Thoughts of you are always some of my happiest, and always will be.
Until the sun comes out again for you, my umbrella is big enough for two.
Tips for Writing a Good Luck Message
When wishing someone good luck, whether they are about to embark on a new journey or are nervous about a big exam, humor is a fun way to lighten the mood and ease their worries. However, sincerity and genuine luck are always appreciated.
Break a leg! But not literally... please be careful.
Remember, if Plan A fails, there are 25 more letters in the alphabet.
Sending you the luck of the Irish!
From where I'm sitting, your future looks so bright I need sunglasses! Enjoy the journey.
Don't stress. Do your best. Forget the rest.
"I'm not allowed to bet, but if I could, my money would be on you." -Cinna
You don't need lucky underwear, four-leaf clovers, or a horseshoe when you have passion, drive, and wisdom. Nevertheless, I wish you lots of luck!
Keep your eye on the ball. Go get 'em, tiger!
"Shoot for the moon. Even if you miss, you'll land among the stars." - Norman Vincent Peale
Go give them something to talk about!
Sending you all the luck in the world, plus a little from Mars, just to be safe!
"Only those who will risk going too far can possibly find out how far one can go." - T.S. Eliot
Knock 'em dead! But, like, not really. Just dazzle them with your brilliance.
Crossing my fingers and toes for you! Best of luck!
"May the odds be ever in your favor" - Effie Trinket
You've got the brain of Einstein and the courage of a lion - you're unstoppable!
This is going to be your greatest adventure yet!
Your future is in the palm of your hands.
To calm your nerves, just imagine everyone in their underwear. It can't go wrong!
If you can't be the sharpest tool in the shed, just be the most colorful one.
Go on and hit 'em with your best shot!
Just remember, you are more prepared than a squirrel with a nut during winter. Good luck!
"When you have a dream, you've got to grab it and never let go." - Carol Burnett
Rooting for you today and always!
No dream is too big. If it doesn't scare you, keep dreaming!
As long as your heart is in it, you can win it.
Best of luck with your new endeavor!
You're going to crush it out there! I can't wait to hear all about it.
"Nothing is impossible. The word itself says, 'I'm possible!'" - Audrey Hepburn
Here's to a great adventure and success that is sure to follow.
When you believe in yourself, magic happens.
Tips for Writing a Congratulatory Graduation Message
Graduation is a special milestone that many students look forward to with great anticipation. Perhaps you have a recent graduate in your life that you've been rooting for and are eager to see what they accomplish next. Let them know how proud you are to see them switch their tassel from right to left, and wish them well on their new chapter.
I cannot wait to see what the future holds as you bloom into adulthood.
I have always loved watching you blossom into a young adult. Now, your future awaits.
Good looks, brains, heart, and now a diploma, too? You've really got it all!
Caps off to you, Graduate! Well done!
With a heart full of pride and eyes brimming with tears, we say, "'Well done!"
The future is yours to shape, dear graduate.
"Go confidently in the direction of your dreams. Live the life you have imagined." - Henry David Thoreau
Remember, this is not the end but just the beginning. Congratulations!
Congratulations, graduate! May your journey ahead be filled with success, joy, and endless opportunities.
Adventure Awaits!
Our warmest thoughts and highest hopes are with you as you celebrate your graduation.
May you always dare to dream and do great things.
"All dreams are within reach. All you have to do is keep moving towards them." - Viola Davis
Can't wait to see where life will take you next!
Thinking of you with love and pride on your graduation day.
Warmest congratulations on your graduation and best wishes for your next adventure!
Prayers and blessings on your graduation day and for your future ahead.
Congratulations today, and best wishes for all your tomorrows.
It has been a pleasure watching you grow and flourish. Keep blooming!
Bravo! The world is your oyster now, waiting for you to find its pearls.
"Congratulations! Today is your day. You're off to great places. You're off and away!" --Dr. Suess
Congrats, Grad! You did it!
Tips for Writing a Thank You from the Graduate Message
While beaming with excitement, ready to walk across that stage and take on whatever lies ahead, you may want to extend gratitude to those who have helped you get to this point in your journey. From parents and teachers to coaches and mentors, saying "thank you" is also a heartfelt way to say "goodbye" or "see you later."
Your belief in me turned my dreams into a diploma.
Thank you for believing in me, supporting me, and helping me flourish.
To my pillar of strength, thank you, Mom and Dad, for guiding me to my graduation day. Here's to the adventures ahead!
??Every page I turned and every exam I took, your support guided me through. Grateful always.
From late-night studies to early morning classes, you've been my rock. Thank you, Mom and Dad.
Behind this gown and cap is your unwavering support.
Dear [Teacher's name], thank you for your endless wisdom, guidance, and inspiration. I will always carry your teachings with me as I step into my future.
This tassel was worth the hassle, especially with you by my side. Thank you for everything!
I am forever grateful for the lessons and for the memories. Thank you for being a compass throughout this journey.
To my friends, we made it! Thank you for the laughter and all the memories.
Thank you for believing in me even when I doubted myself.
Here's to every encouragement and wise word. I'm graduating because of you!
Thank you for your endless guidance and support as I reach my goals and accept my diploma.
Every step towards this cap and gown was made easier because of you.
Your guidance has undoubtedly shaped my journey and inspired my future.
Even when I wandered off track, you always helped bring me back. I am forever grateful.
Here's to patience, practice, and paving a road to success. I could not have done it without you.
Behind this achievement is endless love and support. Thank you for being such a big part of it.
Tips for Writing a Happy Holidays Message
The holiday season is said to be the most wonderful time of the year, filled with joy, family, friends, traditions, and delicious food. Whether you're sending seasonal blooms to far-away family members, thanking someone for their hospitality, or delivering holiday cheer to a boss or co-worker, a little personalization goes a long way when signing cards.
Tips for Writing a Loss of Pet Message
Comforting a friend or loved one who recently lost a pet is never easy. While sharing a message of support during this difficult time, you can also share funny and sweet anecdotes or the impact their fur baby had on your own life.
Though they have crossed the rainbow bridge, their loving spirit will forever stay with you.
Between the cuddles and adventures and extra treats, [Pet's Name] had an extraordinary life with you.
May their memory live on in your heart forever.
Although words can't take away the pain, I want you to know how deeply I care.
Remembering the joy and love your pet brought to all of our lives.
"How lucky I am to have something that makes saying goodbye so hard." - Winnie The Pooh
Your new guardian angel has paws, fur, and the happiest smile as they look down on you.
May your fur baby always be by your side, following you into the bathroom in spirit.
[Pet's Name] was truly special and brought so much happiness and joy to everyone they met.
Sending you love and hugs during this difficult time.
"What we have once enjoyed we can never lose; all that we have loved deeply becomes a part of us." - Helen Keller
[Pet's Name] was certainly a cherished member of the family and will be greatly missed.
I am so sorry for your loss. [Pet's Name] had a wonderful life filled with love, joy, adventures, and extra treats all because of you.
"What greater gift than the love of a cat." -Charles Dickens. Holding space for you during this time.
It was impossible not to smile anytime [Pet's Name] was around. They brought joy and love everywhere they went.
"Some angels choose fur instead of wings." - Unknown
Even as they cross the rainbow bridge, the light they brought into our lives will always shine bright.
Sending my love and support as you grieve the loss of sweet [Pet's Name].
Remembering [Pet's Name] and all the fun and cherished memories you shared.
[Pet's Name] was such a loving and wonderful soul who brought happiness wherever they went. My deepest condolences for your loss.
"Man is truly blessed when a dog's beautiful spirit has touched his life and heart." - Cathy Asunma
I will always cherish the memories and the snuggles with [Pet's Name].
Sending you lots of love during this heartbreaking time.
Remembering [Pet's Name]'s sweet nature as they find peace and happiness across the rainbow bridge.
"When the cat you love becomes a memory, the memory becomes a treasure." -Unknown
May you find comfort in the wonderful memories you shared with [Pet's Name].
My heart aches for you. [Pet's Name] was such a big part of your life, and we all loved him/her dearly.
"If not for dogs, how would we know the meaning of unconditional love?" - M.L. Gerard
May [Pet's Name] never be absent from your heart.
Offering you love and brightness in your time of heartbreak and darkness.
In this sorrowful time, may the fun and loving memories of [Pet's Name] bring you peace.
As [Pet's Name] crosses the rainbow bridge, I hope they find fields to run in and plenty of treats to enjoy.
Sending you comforting hugs during this difficult time.
Tips for Writing a Love & Romance Message
Make Them Swoon! If you are head-over-heels in love with someone, then your head is likely swimming with romantic notions and expressions of deep love that may be hard to articulate. Whether your passion is for a new flame or for the love of your life who has been by your side for years, the below messages of sweetness, love, romance, and passion will help you get your sentiments across clearly while melting their hearts and making them swoon.
I know that you were made for me
You are the reason I'm alive.
"True love is friendship set on fire." (French Proverb)
When I think of love, there's only one thing that comes to mind... You!!
All my love.
I love you.
All of my heart, I send to you. All of my life, I'll spend with you.
Always and forever.
I wish there were more ways to say all that you are to me. Love always.
I don't want to set the world on fire, I just want to start a flame in your heart!
You take my breath away... today and everyday.
If actions speak louder than words... this is my way of shouting.
The beauty of these roses cannot match the beauty and depth of the love I feel for you. You are always in my heart!
My heart is filled with love for you.
There are many fish in the sea...but I've already caught the love of my life.
I'm delivering you a kiss to last all week.
You need to be kissed – and often – by someone who knows how. - Rhett Butler to Scarlett O'Hara, Gone with the Wind
You're the twinkle in my eye, you're the song in my laugh, you're the light in my smile. you're my everything.
I love you for not only who you are, but for who I am when I am with you.
Here's looking at you kid. - Humphrey Bogart to Ingrid Bergman, Casablanca
I believe in long, slow, deep, soft, wet kisses that last three days. - Kevin Costner to Susan Sarandon, Bull Durham
I love your lips, I love your style, but most of all I love your smile!
I offer you my heart, right here, right now, forever!
Every day that I'm with you, I love you more.
I love you more than I did yesterday, but lesser than tomorrow
Love and kisses.
You take my breath away...today and every day.
If you trip over love, you can still get up, but once you fall in love, you fall forever
True love stories can never have endings
With you it's Valentine's Day 365 days a year.
I send a kiss inside the petals of each rose...
I see you every time I close my eyes
My heart beats just for you
You are the love of my life.
Tips for Writing a Mother's Day Message
When writing a message to someone as important as a mom, feelings can sometimes overwhelm you and you don't know where to start. Use our message suggestions as a starting point to prompt you to express your true feelings in letting your mom know how much she means to you.
Tips for Writing a Sympathy / Funeral Message
Coming up with the words for a sincere and thoughtful sympathy message is probably the most difficult of all. Trying to comfort someone who is in pain and suffered a loss may leave you confused on where to begin. It's helpful to write words of support and encouragement and, above all else, to be sincere and thoughtful. Often a well-crafted quote works well to capture the sentiment you're feeling.
Words fail to express my sorrow for your loss. Please know I am with you through this difficult time.
Please know I am here to listen, comfort, and lean on during this difficult time.
Please accept these flowers and hear the words we are not able to speak.
My thoughts and prayers are with you.
Please accept my deepest sympathy for your loss.
Sending you lots of love and comfort, we are so sorry for your loss.
Thinking of you in these difficult times.
My heart is with you in your time of sorrow.
Sending healing prayers and comforting hugs. I am so sorry for your loss.
Holding you close in my thoughts and hoping you are doing OK.
Wishing you peace and comfort during this hard time.
We are so sorry to have learned about your loss. We are here for you however needed.
What an amazing person and what a remarkable life. I feel so lucky that I got to know him.
I'm not sure what to say in the face of such a difficult loss. Just want you to know that I care about you, and I share in your sadness.
We are deeply sorry about the loss of (name). As you grieve, know that we are remembering and honoring him/her.
Wishing you peace to bring you comfort, courage to face the days ahead and loving memories to forever hold in your heart.
Words often can't express the loss of a loved one. Know that I'm here for you and your family in these difficult times when you need anything.
I'm deeply sorry your family is experiencing the pain of a loss like this. My heart goes out to each of you.
My thoughts and prayers are with you in your time of grief.
I wish I could be there to comfort you as you grieve. I'm holding you in my heart.
Keeping you in my warmest thoughts as you navigate this difficult time—and wishing you hope and healing when you're ready.
Thinking of you, wishing you hope in the midst of sorrow, comfort in the midst of pain.
I know words can't take away the hurt you're feeling, but I want you to know how much I care. Sending you love and strength in this time of loss.
I can't imagine the sadness you must be feeling from your loss. May the love of those around you help you through the days ahead
Those we have held in our arms for a short while we hold in our hearts forever.
May the love of friends and family soften your sorrow and sadness.
Please accept our warmest condolences, we are deeply sorry for your loss.
Please know you are in our thoughts, and in our hearts.
Tips for Writing a Thank You Message
Sending "thanks" to someone for doing something in particular, or just because they make you smile every day, is a great way to show your appreciation for them. From a general thanks for someone you don't know very well (Great Aunt, teacher, dog sitter) to a close friend or family member, expressing your thanks is always well-received and appreciated.
Thank you for being the reason I smile.
You score phenomenally high in the kind-o-meter. Seriously, I checked.
It was so nice of you to help me out the other day.
You are so thoughtful.
My sincerest gratitude.
I was so touched by all the support you've given me. Thank you!
You = awesome. Me = grateful.
Thank you for being you.
Thank you for brightening my world!
You can't see me but I'm totally doing a happy dance.
I want to extend my gratitude.
Words can't describe how thankful I am.
You reached out your hand and touched my heart. Thank you.
You've always believed in me. Thank you!
Thank you for being an important part of my story.
Heroes don't always wear capes. Thank you!
Thank you for the thoughtful present.
We will always be grateful for all that you have done to help us.
Thank you for making me feel things I thought I could never feel again.
You're the best.
My heart is still smiling. Thank you!
If I had a flower for every time I thought of you I could walk through my garden forever.
I'm humbled and grateful.
We are so pleased you could join us on our special day.
You gave me back the smile I lost. Thank you!
Your thoughtfulness is a gift I will always treasure.
Sometimes the simplest things mean the most.
You're the best thing that's still happening to me.
I appreciate your generosity.
You never fail to surprise me. Thank you for such a terrific gift.
Thank you for all the small things.
My heart just keeps thanking you and thanking you.
Thank you for being my angel.
I am so grateful for the lovely gift.
Your thoughtfulness is a gift I will always treasure.
This isn't a thank you note, It's a hug with a fold in it.
The world's a better place Because of people like you, Who take the time to do nice things The way you always do.
I was so touched when I opened your gift—you left me speechless! Thank you so much.
All I can say is, thanks!
I am so blessed to have a generous friend like you.
I can't thank you enough for being there in my time of need.
Thanks for being there when I needed you.
Thank you again for inviting us into your lovely home.
I would thank you from the bottom of my heart, but for you my heart has no bottom.
Even if every flower in the world had a voice I couldn't send as many as it would take to say thanks!
You deserve so much more than just a thank you. Your help meant the world to me. So for starters, I want to thank you.
You're a blessing to me.
You have no idea how much your help means to me.
For all the things you do, both big and small, I want to thank you.
Thank you a million times over for your support. You went above and beyond and I'm blown away.
We'll never forget the great experience we had together.
Thank you much more Than a greeting can say, Because you were thoughtful In such a nice way!
Tips for Writing a Valentine's Day Message
Whether you're celebrating a new love that is just starting to blossom or a decade's-long love that grows stronger every day, show them how much they mean to you with a sincere message from the heart. A good place to start is to focus on what it is about them that makes your heart sing.
Important Points to Keep in Mind Before Sending Someone Flowers
Sending flowers for special occasions, big or small, is a well-established custom that makes the occasions all that more special. With the right message, flowers have the power to lift spirits, create joy, expand love, soothe the soul, inspire happiness, and help comfort.
There are a few things to keep in mind, though, before sending someone flowers.
When sending someone flowers, make sure they don't have allergies. If you are unsure whether they are allergic or not, stick with hypoallergenic flowers such as carnations, orchids, tulips, hyacinth, daffodils, and peonies.
If sending flowers to someone in the hospital, call the hospital first to make sure they receive flower deliveries. Here are more tips on sending flowers to a medical facility.
If you want to send flowers to show your appreciation of frontline and healthcare workers, send a thoughtful card instead to the facility, since flowers may not even be allowed. If you want to send flowers to a nurse or doctor you personally know, send them to their home address.
When sending sympathy flowers, check with the family to see if they prefer the flowers to be sent to a funeral home rather than their home address.
When sending romantic flowers, red roses are the classic choice, but to really impress and express your love, send the recipient their favorite flowers to make a bold romantic gesture. Also, send the bouquet to their private residence instead of a public location like work which can cause gossip or embarrassment.
When sending birthday flowers or celebratory flowers for special occasions such as Easter, Professional Admin Day, or Thanksgiving, keep in mind the recipient. If they are a good friend but not someone you're romantically involved with, then don't send red roses. Again, it's best to send to their private residence. Keep your flower choices and messages thematically appropriate. Send cheery and colorful flowers for a birthday, get well, or congratulatory occasion. For a new baby, send soft and cute arrangements in pink (for a girl) or blue (for a boy). If you don't know the gender or don't want to offend, play it safe by choosing neutral colors such as orange, yellow, or green.