KEN FREYTAG OF FREYTAG'S FLORIST IS RECIPIENT OF 2015 TOM BUTLER "FLORAL RETAILER OF THE YEAR" AWARD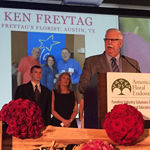 Sep 11, 2015
AMELIA ISLAND, Fla., Sept. 11, 2015 /PRNewswire/ -- SAF Convention - Teleflora, the world's leading flower delivery service today proudly announced the recipient of the first annual Tom Butler "Floral Retailer of the Year" Award, Ken Freytag of Freytag's Florist (www.freytagsflorist.com) in Austin, Texas. The Honorary Award recognizes a retail florist and
Teleflora member that best embodies the legacy of Teleflora's former Chairman, Tom Butler. In addition to running a first class retail operation, the award winner shows the highest level of commitment and service to their local community, is a dedicated ambassador to the floral industry, and provides leadership and guidance to fellow florists. The announcement was made at the American Floral Endowment (AFE) Fundraising Dinner taking place in conjunction with the Society of American Florists' (SAF) Annual Convention at the Ritz-Carlton in Amelia Island, Florida.
Teleflora established the Tom Butler "Floral Retailer of the Year" Award in honor of Teleflora's past Chairman Tom Butler, who led Teleflora in its mission to serve as a trusted business partner, friend and innovator to independent retail florists across the U.S. andCanada since 1995.
"I can't think of a more deserving individual to honor the values and legacy of Tom Butler, than Ken Freytag of Freytag's Florist," saidJack Howard, Executive Vice President of National Accounts at Teleflora. "Ken Freytag's 40-plus year career as an ambassador dedicated to the improvement, growth and sustainability of the floral industry and that of his fellow florists are just a few of many milestones that make him worthy of this year's Teleflora Floral Retailer of the Year Award."