FREYTAG'S FLORIST WINS THE AUSTIN CHRONICLE'S 2015 BEST AUSTIN FLORIST, SEVENTH CONSECUTIVE YEAR!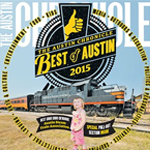 Sep 10, 2015
Freytag's Florist is pleased to announce our SEVENTH YEAR to be voted Austin's Best Florist by the readers of The Austin Chronicle. We are profoundly honored and proud to be Austin's favorite florist. As always, we are committed to serving our customers with the highest quality products and service

"Best Florist: Freytag's
Want to up your Austin native street cred? Order your dear heart some flowers from seven-time "Best of Austin" winner Freytag's. A tradition on Mesa Drive since 1974, they done busted loose in 2002 into a 13,000-square-foot flower megastore (previously the site of a Steak & Ale restaurant). Freytag's remains a family affair, with founder Ken Freytag's son Chad hatching online plots to rule the digital flower world and Casey Freytag Chitsey assuring designs are top-notch.
Freytag's Florist, 2211 W. Anderson, 512/371-5640,www.freytagsflorist.com"