FREYTAG'S FLORIST VOTED BEST AUSTIN FLORIST SIXTH CONSECUTIVE YEAR.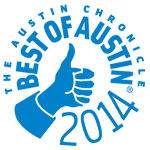 Sep 12, 2014
Freytag's Florist is pleased to announce our SIXTH YEAR to be voted Austin's Best Florist by the readers of The Austin Chronicle. This recognition highlights our dedication to achieving growth and trust the old fashioned way -- by earning our customers' respect, one stem at a time. We are honored to be the preferred Austin florist. We pledge to continue our commitment to helping you say it best with same-day flower delivery to Austin, Texas and our neighboring cities.
"Best Florist: Freytag's
Love in the bud? A flowering romance? Passion a'bloom? Look no further than Freytag. Austin's biggest and (our readers say) best florist, this shop offers a jaw-dropping selection of posies too pretty to be put in a pocket. If nothing tickles your fancy upon the first go-round, ask for a tour of the back. Three refrigerated rooms deep, we promise they have whatever flowers you're looking for, plus some you never knew existed. No wonder they've been fresh-picked six years in a row.
Freytag's Florist, 2211 W. Anderson, 512/371-5640,www.freytagsflorist.com"