DENISE GEHRKE, AIFD PFCI WINS THE 2016 HOUSTON CUP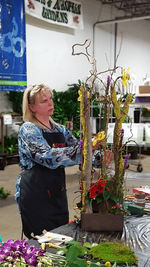 Apr 12, 2016
Freytag's Florist Creative Director Denise Gehrke, Aifd Pfci takes home the top prize at the 2016 Houston Cup Floral Design Competition.
The Houston Cup is an annual floral design competition for the members of Allied Florists of Houston. The winner of the Houston Cup advances to the Preliminary Phase of the Texas State Florists Association's Texas Cup Competition.

Floral designers compete in the following categories: Interpretive Design, Sympathy Design, Wedding Bouquet, and Surprise Situation.

Floral designs are judged on the following criteria: Interpretation, Creativity, Scale, Unity, Balance, Focal Emphasis, Line, Depth, Color, and Mechanics.