EMPLOYMENT
Freytag's Florist employees work as a team. As an industry leader we believe in the Freytag's Florist way of look, style and feel in everything we do, from a professional attitude to a genuine smile that reflects a positive attitude which leads to a great working environment.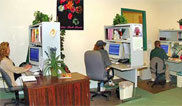 At Freytag's Florist, we expect nothing less than the best in every position. We do not categorize vertically but horizontally. We believe that a chain is only as strong as its weakest link. Freytag's Florist is a forward moving and thinking company. The days are not boring and the ideas and energy are always plentiful and exciting. The saying "Never Say No to the Customers" is the greatest challenge in business. It really happens here. We are always looking for the best people for our company. If this sounds like you, tell us a little about yourself. We are looking forward to your interview.
Thinking about moving to Austin? Contact us us online or call (800) 252-9145 and ask for Chad or Ken Freytag to discuss all possibilities.
Available Positions
Experienced Floral Designer
Experienced Floral Designer.
Contract Driver For Mother's Day
We have positions available for temporary Mother's Day delivery drivers. I need drivers that can work Friay, May 10th and Saturday, May 11th. We load vans at 6:30 am and deliver until all deliveries for the day are done. We will supply cargo vans, gas and insurance. We pay $5.00 per completed delivery. We are one of the only florists' that supply the vehicle and gas for you. *Also you will be required to attend a brief paid orientation on May 8th at 10:00am. (You will be paid $10.00 on your final check)*.